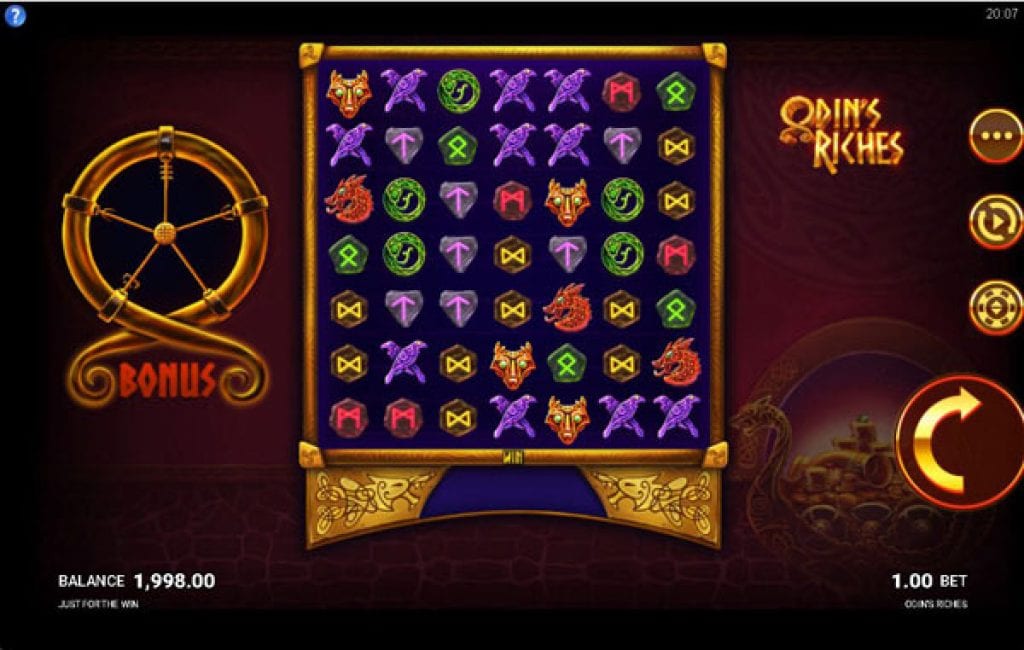 Odin's Riches is a 7×7 video slot machine that has the cluster pays format. It has numerous features, bonuses, free spins, and multipliers.
The title of the game gives you a glimpse of what the game is all about. It takes you on an Ancient Nordic Mythology ride with the god of wisdom and his riches and treasures, Odin.

Best Casino Slots for Real Money
Odin's Riches Slot Overview
Get ready to unveil the mysteries of the Ancient Norse gods through this new video slot machine by JFTW and Microgaming, Odin's Riches. You will enjoy the company of Odin, the ancient Nordic god of wisdom. You will join him in a pretty unusual cluster pays slot. It has a 7×7 Rolling Reels grid with meters and plenty of mini-features that can be quite rewarding. The game offers free spins, multipliers, and plenty of modifiers and mini-features. The game has fantastic visuals, which is not a surprise since it is by Microgaming and JFTW. It has a high RTP, a wide betting range, and an overall fun experience that you will certainly enjoy.
The Story behind the Slots' Theme
Odin's Riches by Microgaming has a Norse Mythology-themed adventure. The game follows Odin, who is the Germanic God of Wisdom and is considered as one of the strongest gods in mythology. He is the father of Loki and Thor, which you might know from the Marvel Cinematic Universe. The game invites you to travel into Nordic Mythology and its ancient civilization. You will try to unveil the secrets and uncover the riches of Odin and claim them for yourself.
Gaming Format and Visuals
Odin's Riches has a 7×7 format, which is a unique format. It doesn't have a regular line-based system, but it runs on a Cluster-Pays format. The slot machine seems to be taking place inside of one of the humongous vaults of Odin's Riches. The game starts with Odin sitting on his throne with his long white beard and his two wolves, Geri and Freki, on his sides. You will see some of the golden riches on the right side and a golden horn on the left. As for the symbols, they include different symbols and runes from the ancient Nordic civilization.
Odin's Riches Payouts
The action takes place on a high-paying 7×7 grid with the cluster pays format. So, you will claim a payout upon getting a cluster of five or more. The stakes level of the slot is between 0.20 and 50 credits for each spin of the reels. The game also has a Quick Spin mode as well as an Autoplay function, where you can set up to 100 spins. Lastly, the slot machine is extremely volatile, with an RTP of 96.07% and a max reward of 5000x the stake.
Bonus Rounds and Special Features
The video slot offers seven bonus rounds. Therefore, you can expect a variety of ways through which you can claim your share of Odin's Riches. There are four modifiers and mini-features, as well as a free spins bonus with multipliers. The video slot also has the Rolling Reels feature, which allows for multiple winning chances for every round. As for the four mini-features, they are Raven's Flight, Serpent's Wisdom, Wolf's Hunger, and the Dragon's Riches.

Best Online Slots for Real Money
This is one of the best offers around for playing slots for real money. T&C Apply 18+